User guide
How to use
Library hours
Open

| | Mon.-Fri. | Saturdays, Sundays, National holidays |
| --- | --- | --- |
| Lecture term | 9:00-20:00 | closed |
| Others (vacation) | 9:00-17:00 | Closed |

Close

Saturdays / Sundays / National Holidays
Year-end / New Year
For ohter exceptions please check out notice board.

Night and closed days

Members of Graduate School of Agricultural Science and Faculty of Agriculture can enter the library during night and closed days (7:00-24:00)
Entering
Swipe your card through the scanner to open the door.
If you don't have your ID card, use the interphone to contact the staff.
An electronic security device has been set. If you have a pacemaker, plsease contact the staff using interphone.
User card
To use the library, you need to one of the ID cards shown below. If you don't have one, contact the service desk.
| Users | Card | Issuing Section |
| --- | --- | --- |
| Staff | ID card | General affirs section |
| Students | Student card | Instruction section |
| Others(*1) | Library User Card | Agricultural Library(*2) |
| General public | Library User Card | Agricultural Library |
(*1)Researchers, Research Students, Auditors, and so on.
(*2)If you are not a member of Graduate School of Agricultural Science or Faculty of Agriculture, please inquire service desk.
How to use materials
Library circulation

To check out materials, bring them to the Service Desk with your ID card. You can also use Self-checkout machine.

Numbers of materials that may be borrowed & loan period
Faculty members, Graduate students
10items
2weeks
Undergraduate students, others
5items
2weeks

Returning

When you return the materials that you borrowed from the Agricultural Library and other on campus libraries, bring them to the Service Desk or put them into the book drop located near the entrance when the library is closed.

Renew

Before the due date, you can renew them by "Check Status of Loan/Reservation" on "MyLibrary". Some requested materials may be unavailable.
Inter library loan
If you can't find what you are seeking in the Agricultural Library, you can request the photocopy of articles or Inter-Library Loan service. You can request them by "MyLibrary" (Use "Online Catalog" or "Applies for the photocopy / loan")
Fees

| | Intramural | Other university |
| --- | --- | --- |
| Photocopy | Black & white / ¥20, Color / ¥40 | Black & white / ¥35-70 +Postage |
| Inter library loan | Free (On-Campus delivery service) | Postage |

Payment

Laboratory Expense (need approval in advance) or Cash (Private expense).

Time requirement

All articles require about 1 week on average. If you request rare or overseas articles, note it takes several weeks to receive.
Online services
Library website provides variety of web services.
Materials that Tohoku University library houses can be searched by online catalog.
You can search for doctoral dissertations of graduate students of Agricultural Department in institutional repository yourself. If you like to read actual doctoral dissertation (thesis), please ask the service desk.

MyLibrary(Only for university members)

Reservation, Check status of loan / Reservation (Renew), Inter library loan / Photocopy request, Purchase request, Facility reservations and so on.

Electric resources (Only for university members)

Databases, E-journals and E-Books can be available.
Reference service
The library staffs are always ready to advise and assist you in accessing library materials and information. Please ask the staffs if you have any questions.
Wi-Fi service
Campus Wi-Fi (eduroam) is available inside the library.
Shared stack room
Books from other on campus libraries and this library are here.
Open

Monday-Friday 9:00-17:00

Number of materials that may be borrowed & Loan period

| | | |
| --- | --- | --- |
| Faculty members, Graduate students | 5items | 2weeks |
| Undergraduate students, others | 5items | 2weeks |
Learning commons
Learning commons is an area for active learning. You are free to hold events such as seminars, class works, group activities, workshops and lecture meetings.
You can borrow equipments listed below. When you want to borrow, please fill out an application form.
Projector
Screen
Laptop PC
Laser pointer
Microphone/Speaker
Display panel
Desk for presentation
Lectern
Table for reception
Standing sighboard
etc.
Guidance
We offer services such as a general guidance of using the library or specific guidance for using databases etc, for a person, groups or classes on demand. Contact the staff for further information and consultation.
For the General Public
General public can use the Agricultural Library for research purposes.
General public cannot borrow materials.
For photocopying, fill in the photocopy application form and submit it to the Service Desk.
Please take consideration of students during examination period.
Notice
Only bottled drinks and canteens are allowed.
No eating or drinking except in a specified area.
No talking on the cell phones.
No smoking on premises.
Get permission from the Service Desk for taking photos.
Floor map
1st floor overall view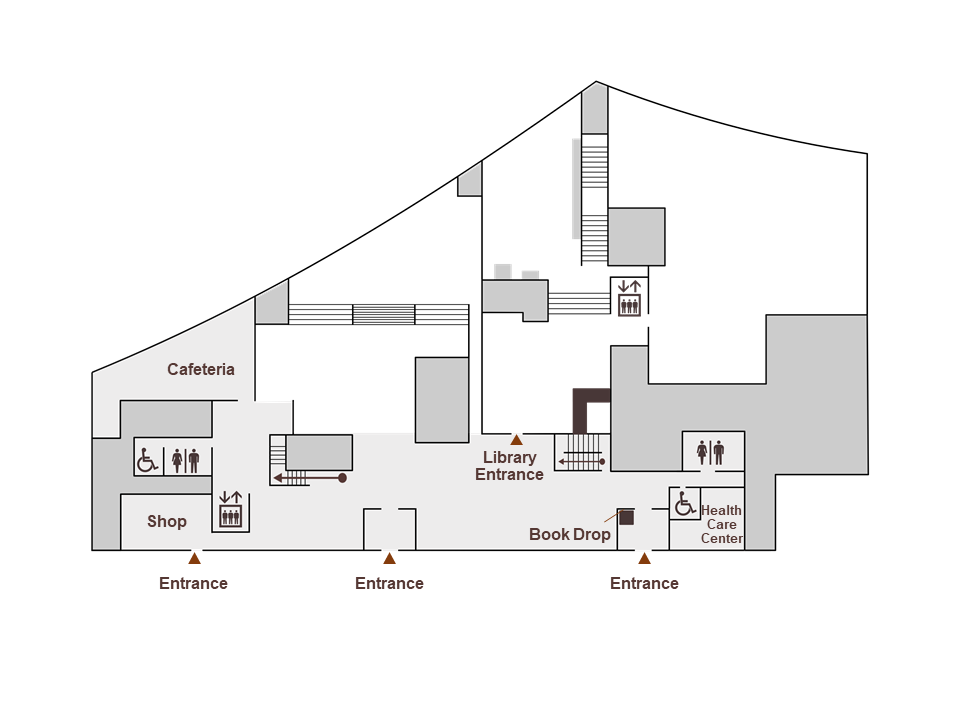 Agricultural Library

Cafeteria

Shop

Health care center
1st floor library area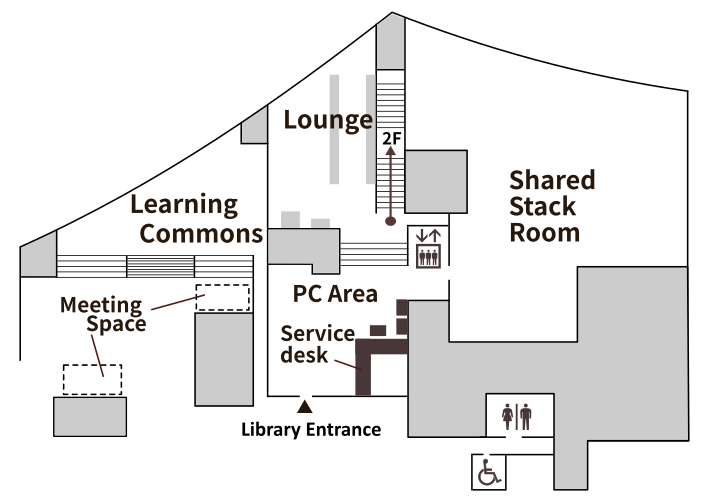 Service desk

PC area

Stack room

Materials from on-campus libraries are stored.

Lounge

Learning commons

Area for active learning.
2nd floor library area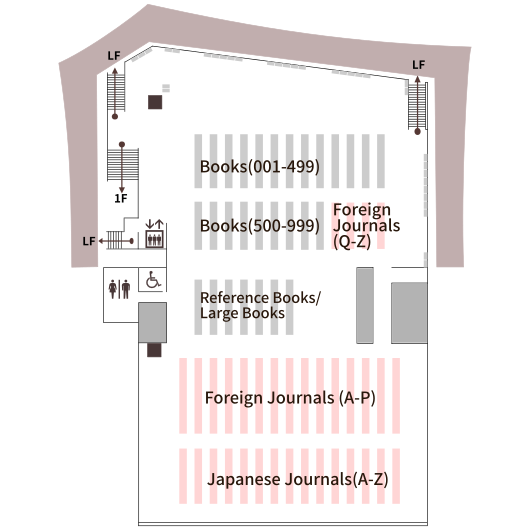 Strudy seats(LF)

Reading room

Books

Journals