We have summarized information on the main Library at Kawauchi campus, which is mainly used by new students, to support your study in the university.
We will post procedures for using, how to find materials, learning support information, etc. on this webpage.

The information posted may be changed depending on COVID-19 response of the university, so please check the latest information on the Website of the library and Official Twitter.


[COVID-19 Information and Preventive Measures]
COVID-19 Prevention Measures (Library)
COVID-19 Information from University
Use the library
Libraries will open with restricted services

To use the library, you need your student ID card and Tohoku University ID (+ password).
Student ID and Tohoku University ID will be distributed at orientations held by each department.
For the details of orientations, please check the information from each faculty / graduate school.

User's guide (with floor map) [PDF]


Library Card
Student ID card (pink magnetic card) can be used as a Tohoku Univ. Library Card.
You will need it when entering and borrowing materials in all libraries, so please prepare it in advance.
If you have a paper student ID, please apply for a Library Card at the main counter.
Entering
When entering the library, please insert your ID card into the slot of the entrance gate.
If you forget to bring your student ID card or if the card has not been issued, please fill in the form at the reception.
Borrowing / Returning
When borrowing, use the automatic lending machine installed in the library.
When returning, please bring it to the main counter.(materials in the student reading room and global study room can also be returned at the reception)
Number of books to borrow and borrowing period.
Using spaces of library
There are various study spaces that can be used according to your learning style and the mood.
Please use there freely for self-study or study in a group.
Using PCs
*Suspended
Internet connection requires Tohoku University IDs. You can use PCs after your Tohoku University ID is distributed.

Campus Wi-Fi (eduroam)
To get sub ID, Tohoku University ID is required. It's available after distributing Tohoku University ID.
You can connect to the campus Wi-Fi (eduroam) at the library.
Sub ID is required for connection, so please register in advance.
Notice: For students enrolled in April 2020, sub ID and sub ID password are set in advance.
The set ID and password are described in the Tohoku University ID Notice.
Click here for connection manual.

"MyLibrary"(Online Service)
Extending the status of borrowed materials
Reservation of on-campus materials
Copy from off-campus and book loan application
Reservation of the library facilities
You can download "MyLibrary Guide" PDF file by clicking the image.

[Reference information] About IDs used in libraries
Tohoku University ID
Internet connection on the PC in the library, library web service "MyLibrary", login to student portal site (class registration, ISTU, etc.), etc.

Sub ID
Wireless LAN (eduroam) connection
*Summary of ID-Password (Center for Data-driven Science and Artificial Intelligence)

User ID number
10-digit number written below the student ID photo. It may be used for various applications at the library.
Tohoku University Internet School (ISTU)
* Tohoku University Online Class Guide
What is Tohoku University Library?
Library introduction video (YouTube)
Introduction video produced by international student staff at the library. In addition to the main building, there are videos of each branch library. Please take a look.
Main library & Branch libraries Promotion Video Notification from the library and events information are posted on the official SNS. Please follow us!
Accessible at home! Let's make good use of E-journals and E-Books
Documents such as academic theses are often published online.
There are many documents that can be browsed at home or in the laboratory without visiting the library.
How to use them as follows.

E-books
The list of providers is here. (Please note that terms of service are each different.)
You can also search e-books by clicking the "e-books box" on the OPAC advanced search.
【Notice】Some of them have a limit on the number of concurrent logins. Please be sure to log out when finished using.
E-journals
You can use over 13,000 titles of e-journals in Tohoku University.
*The list available is here.

Some e-journal links may be displayed on the OPAC(Online Public Access Catalog) search results.

【Important Notice】
Please use them strictly according to the contract terms.
If you use them illegally, you will be notified of the suspension of use by the publisher. Be sure not to use it in this way.
Access from outside the university
E-journals, e-books, and databases generally can be used in the campus environment, but some of them can be used outside the university via "Gakunin".
* Click here for availability.
*"Gakunin" requires Tohoku University IDs and passwords.
How to find library materials
Tohoku University Library holds books, journals/magazines, newspapers, audiovisual materials, and microfilms, etc..
These materials can be searched on the OPAC and can be accessed from anywhere on the internet in addition to the PCs equipped in the library.
*Some materials cannot be searched due to under inputting. If you can't find any material on the OPAC, please ask using online reference service.

We have summarized the method for retrieving books, how to view the search results, arrangement of materials below.
Basic Information
Materials that can be searched on the OPAC
Tohoku University Library's collection of books (Books, Journals/Magazines, Newspapers, Audiovisual materials, and Microfilms, etc..)
Part of e-books
*You cannot search for articles on the OPAC ("On-Campus" tab in Advanced Search).

Simple search
You can search by any words such as keywords and part of a book title.
When searching for multiple words, separate them with a space.


Advanced Search
In the Advanced search, you can narrow down by book information (book title, author's name, ISBN, publisher, etc.) and holding campus, language etc..
How to view the search results (Books)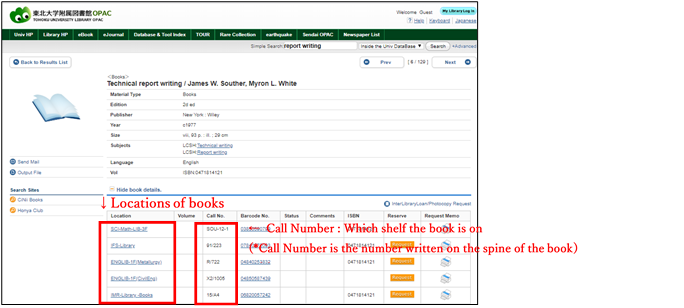 How to view the search results (Journal)
[Notice] When searching for journals, please search by journal title only. Do not use "Volume" or "Year of publication".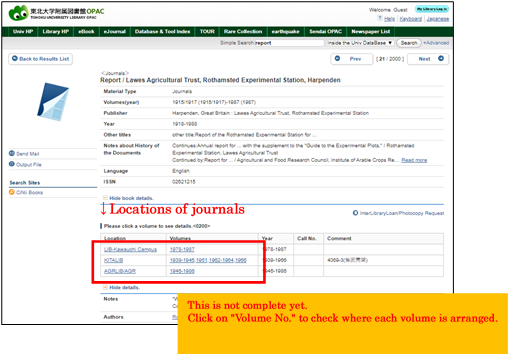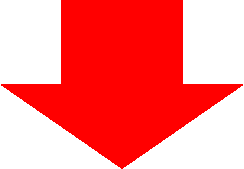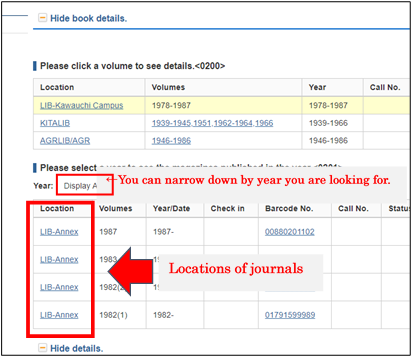 Arrangement of Materials (In the case of Main Library)
Books
Make a note of "Shelving Location" and "Call number" displayed in the search results and look for them.
"Call Number" is the number written on the spine of the book, indicating where the book is arranged in the library and what the subject (what field) the book is.
*The classification method differs depending on each library.
We have adopted "National Diet Library Classification List" for books on the open bookshelf in the main library (student reading room, etc.)
*(e.g. The first and second lines of the label , EG281)→ books on environmental problems)
Journals
They are mainly arranged in alphabetical order by Japanese or Foreign title (year or volume order within the same title) on the first to third floors of building No. 2.
Questions / Contact
Library
Main counter (Main floor 1F, Telephone 022-795-5943)
* Reception is available during opening hours. Inquiries on night and weekend may be answered from the following day.

Library card
Borrowing / returning
How to use library equipments
Materials in the stack and building No.2
Reference Desk (Main Floor 1F, Weekdays 8:30-17:00, Telephone: 022-795-5935)
Online Reference
Reference Service
How to use "MyLibrary"
How to use databases
Using PCs
Using wireless LAN
Application for materials from other libraries
International student concierge (main floor 1F front desk, weekdays only)
This is the consultation counter mainly for international students.
In addition to Japanese, we will provide multilingual support such as Chinese on daily lotation.
Click here for latest information and assigning staff to the team.(Under Construction)

Contacts other than libraries
Contact:
Main Library Reference Section :

ref[@]grp/tohoku.ac.jp