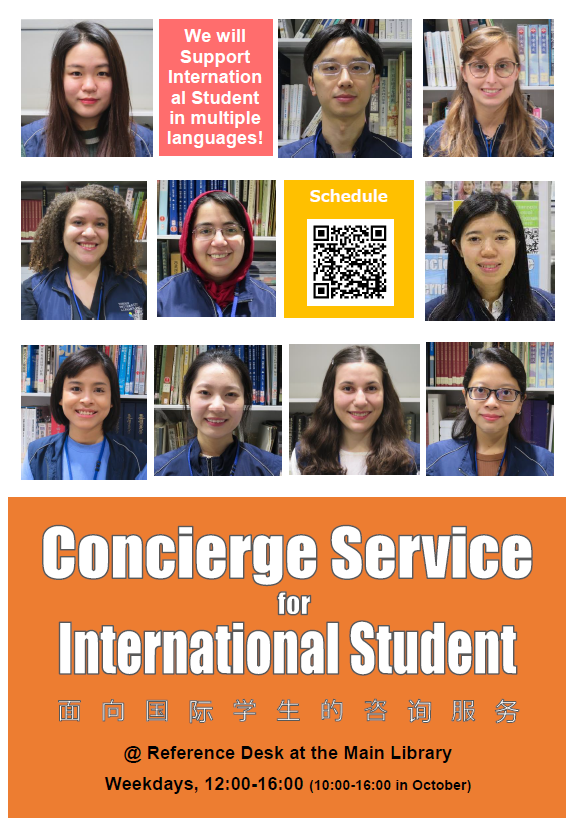 The Tohoku University library offers a library use and study consulting service for international students since 2012 (the International Student Concierge Service).
The International Student Concierge reception is found in front of the Reference desk on the main floor of the Main Library Building 1 (in Kawauchi-minami Campus).
They will answer any questions you may have concerning our library, resources and services.
Monday through Friday, 12:00-16:00(10:00-16:00 in April & October).
Closed on weekends and holidays, during vacations.




Available Languages:

English, Myanmar, Chinese, Serbian, Italian, Portuguese,etc. 
*Available Languages change depending on the day of the week.
Calendar
For detailed information on what language is available at what time, please check the calendar below. Also note that all our foreign staff can also speak both English and Japanese.
---
Promotion Video (last updated on July 2022)
---
---
Staff Introductions!
---
| | |
| --- | --- |
| | |
| Ana Maria Simplicio | Brazil |
| | |
| --- | --- |
| Field of Study: | Innovative Japanese Studies |
| Languages: | Portuguese, English, Japanese |
| Hobbies: | Reading, Traveling, watching Netflix |
| Personal Message: | "Trying and challenging yourself is the real goal". |
| | |
| --- | --- |
| | |
| Andhika Wijaya | Indonesia |
| | |
| --- | --- |
| Field of Study: | Japanese Regional Tourism, Innovative Japanese Studies |
| Languages: | Indonesia, English, Japanese |
| Hobbies: | eating out, drawing food, travelling, reading manga |
| Personal Message: | "Food is Life, Food is Love". |
| | |
| --- | --- |
| | |
| Elena Fabbretti | Italy |
| | |
| --- | --- |
| Field of Study: | Innovative Japanese Studies |
| Languages: | Italian, Japanese, English |
| Hobbies: | Books, Art, Travel, Food, Yoga |
| Personal Message: | You never know what you can do till you try! |
---
| | |
| --- | --- |
| | |
| Gong Liwei(力威) | China |
| | |
| --- | --- |
| Field of Study: | Linguistic Typology |
| Languages: | Mandarin Chinese, English, Japanese, Cantonese |
| Hobbies: | Indie Games, Badminton, Animation |
| Personal Message: | 書けば終わる。 |
---
| | |
| --- | --- |
| | |
| Helen Li (李 子荷) | China |
| | |
| --- | --- |
| Field of Study: | Econometrics, Financial Statistics |
| Languages: | Mandarin, English, Japanese |
| Hobbies: | Piano, Guitar, Badminton, Speed Skating, Singing |
| Personal Message: | All that glitters is gold. |
---
| | |
| --- | --- |
| | |
| Liu Chunlin (劉 淳琳) | China |
| | |
| --- | --- |
| Field of Study: | Neurolinguistics |
| Languages: | Mandarin Chinese, English, Japanese |
| Hobbies: | Piano, Badminton, Movies |
| Personal Message: | To possess another language is to possess another soul. |
---
| | |
| --- | --- |
| | |
| May Oo Khin | Myanmar |
| | |
| --- | --- |
| Field of Study: | Linguistics, International Cultural Studies |
| Languages: | Myanmar, English |
| Hobbies: | Reading, Photography, Movies |
| Personal Message: | "We are the captains of our life journey". |
---
| | |
| --- | --- |
| | |
| Petrovikj Hristina | North Macedonia |
| | |
| --- | --- |
| Field of Study: | Linguistics, International Cultural Studies |
| Languages: | Serbian, Macedonian, English |
| Hobbies: | Music, Karaoke, Movies, Travel, Photography, Art, Dancing, Reading |
| Personal Message: | "You are not a drop in the ocean. You are the entire ocean in a drop." |
---
| | |
| --- | --- |
| | |
| Sara EbrahimiAzar | Iran |
| | |
| --- | --- |
| Field of Study: | Medical Sciences |
| Languages: | Persian, English, Japanese |
| Hobbies: | Reading, sending postcards, discovering places and people, language exchange |
| Personal Message: | The wound is the place where the light enters you. (Rumi, Iranian poet) |
---
| | |
| --- | --- |
| | |
| Thiri Soe | Myanmar |
| | |
| --- | --- |
| Field of Study: | Applied Linguistics |
| Languages: | Myanmar, English |
| Hobbies: | Reading, Cooking, Movies, Gardening |
| Personal Message: | "Be the type of person you want to meet" |
---
---
Please check our Social Media:
International Students Concierge :