We would like to inform you that there will be some changes in the opening hours and services of the temporary library in February due to the relocation work to the Medical library.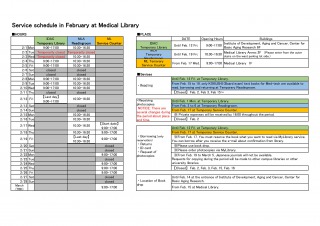 *Click the image to see the PDF.
The temporary library will have been closed by February 12 (Fri.), and the temporary reading room for self-study will have been closed by February 19 (Fri.). From February 17(Wed), we will open a temporary service counter in the Medical Library. Please see the attached sheet for details. Also, on February 2 (Tue.), 3 (Wed.), 15 (Mon.), and 16 (Tue.), we may not be able to respond to sudden inquiries. Please be sure to borrow necessary materials or make photocopy requests well in advance. In the Medical Library, we are relocating materials and preparing the environment for use. We will inform you when we reopen. We apologize for the inconvenience and thank you for your cooperation.
Please check our website for more details.
http://www.library.med.tohoku.ac.jp/renewal/renewal_e.html