Kita-Aobayama Library is currently holding two kinds of book selection events.
You can request e-books that can be used throughout the university and books that you want to purchase at the Kita Aobayama Library!
Any member of Tohoku University can participate.
Please feel free to join!
---
1st: E-book Request Campaign
This is an event where you can request e-books in the fields of science and pharmacy. We have selected about 250 selected e-books from the e-books not owned by Tohoku University.
Request is easy! Put a sticker on what you want to read at the entrance hall of Kita Aobayama Branch, or vote from the website(Google Forms)below.
■Voting period: March 30th (Tue.) -April 30th (Fri.)
■Place: Kita Aobayama Library Entrance Hall
■
Voting site (Google Forms)
【Poster】(PDF)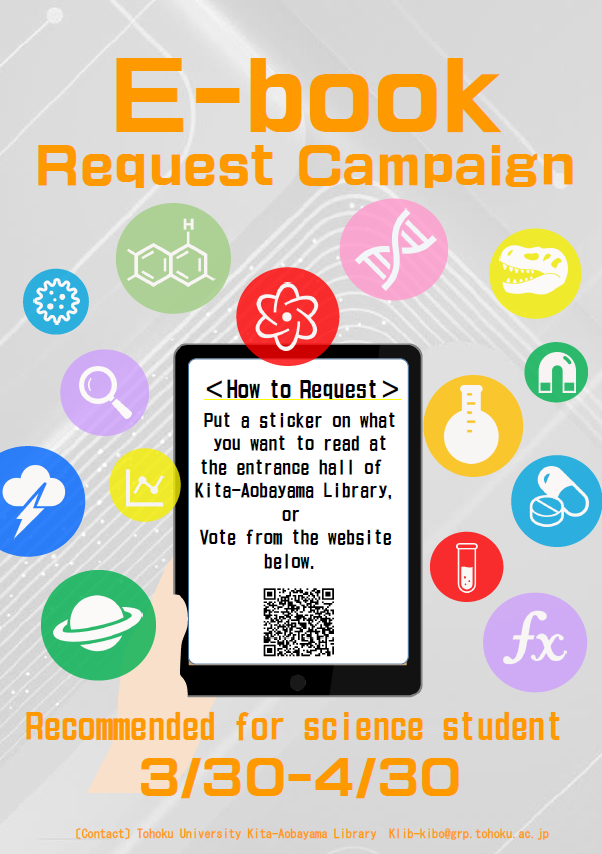 ---
2nd: Book Selection in Tohoku University Co-op
You can vote for the books you want the library to purchase from the books in the special corner of the TU Co-op Store(Aobayama North Campus)
Many academic books and standard textbooks are prepared!
※
Tohoku Univ.co-op business hours
<Contact>
Tohoku University Kita-Aobayama Library
E-Mail : klib-kibo[@]grp.tohoku.ac.jp