About Natsume Soseki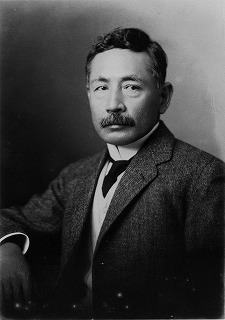 Natsume Soseki (pseudonym of Natsume Kinnosuke) was born in 1867, in Shitayoko-cho, Ushigomebaba, Edo (now Kikui-cho, Shinjuku-ku, Tokyo). He was adopted in his early childhood.
After graduation from Tokyo Imperial University, he taught English at Matsuyama Junior High School, Kumamoto Fifth High School.
Soseki went to Great Britain to study from 1900 to 1902. After his return to Japan, he not only taught at Tokyo Imperial University, but also wrote a serial story I Am a Cat (1905) in Hototogisu magazine. In 1907, he resigned his teaching profession and entered a newspaper company, The Asahi Shimbun. Thereafter, he wrote following serial stories for the newspaper: Gubijinsou, Sanshiro, And Then, The Gate, To the Spring Equinox and Beyond, The Wayfarer, Kokoro, Grass on the Wayside, and Light and Darkness.
On December 9, 1916, Soseki died of stomach ulcer.